Posts for: December, 2013
By Progressive Dental
December 16, 2013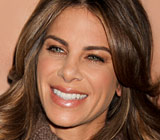 Jillian Michaels, personal trainer and star of television's The Biggest Loser isn't afraid of a tough situation — like a heart-pumping exercise routine that mixes kickboxing with a general cardio workout. But inside, she told an interviewer from Dear Doctor magazine, she's really a softie, with "a drive to be one of the good guys." In her hit TV shows, she tries to help overweight people get back to a healthy body mass. And in doing so, she comes face-to-face with the difficult issue of sleep apnea.
"When I encounter sleep apnea it is obviously weight related. It's incredibly common and affects millions of people," she says. Would it surprise you to know that it's a problem dentists encounter as well?
Sleep apnea is a type of sleep-related breathing disorder (SRBD) that's associated with being overweight, among other things. Chronic loud snoring is one symptom of this condition. A person with sleep apnea may wake 50 or more times per hour and have no memory of it. These awakenings last just long enough to allow an individual to breathe — but don't allow a deep and restful sleep. They may also lead to other serious problems, and even complications such as brain damage from lack of oxygen.
What's the dental connection? Sleep apnea can sometimes be effectively treated with an oral appliance that's available here at the dental office. The appliance, worn at night, repositions the jaw to reduce the possibility of the tongue obstructing the throat and closing the airway. If you are suffering from sleep apnea, an oral appliance may be recommended — it's a conservative treatment that's backed by substantial scientific evidence.
As Michaels says, "I tell people that [sleep apnea] is not a life sentence... It will get better with hard work and a clean diet." So listen to the trainer! If you would like more information about sleep-related breathing disorders, please contact us for a consultation. You can learn more in the Dear Doctor magazine article "Sleep Disorders and Dentistry."
By Progressive Dental
December 06, 2013
There's no dispute in most cases that dental implants are superior to removable dentures as a restoration for missing teeth. One area in particular is the effect a removable denture can have on remaining bone and other structures of the mouth, especially if their fit becomes loose.
If you're a denture wearer, you probably know that loose dentures are a major problem, one that can worsen the longer you wear them. The denture compresses the gum tissue it rests upon to produce forces that are more detrimental than what the jaw normally receives from natural teeth. The underlying bone will begin to dissolve (resorb) under these compressive forces. This in turn changes the dynamic of the denture's fit in the mouth, and you'll begin to notice the fit becoming looser over time.
The loose fit can be remedied with either the production of a new denture that updates the fit to the current structure of your jawbone or by relining the existing denture with new material. Relining can be done as a temporary measure with material added to the denture during your visit to the office, or as a more permanent solution in which the material is added at a dental laboratory. With the latter option, you would be without your dentures for at least a day or more.
Even if dental implants for multiple teeth aren't feasible for you financially, you do have other options. With one particular option, the removable lower denture can be held in place and supported by two strategically placed implants. Not only can this lessen the risk of developing a loose fitting denture, it may also alleviate most of the compression on the gum tissue and reduce the rate of bone resorption. The result is better function for eating and speaking and often a boost in self-confidence, as well as many more years of effective wear from your dentures by limiting bone loss.
If you would like more information on the effects and treatment of loose dentures, please contact us or schedule an appointment for a consultation. You can also learn more about this topic by reading the Dear Doctor magazine article "Loose Dentures."