Posts for: April, 2014
By Progressive Dental
April 17, 2014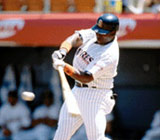 Chewing tobacco is a known cause of oral cancer, yet many a Major League Baseball player has been seen walking onto the field with a round tin visibly poking out of his back pocket. That was before this year. Recognizing the influence big-leaguers have on their young fans, MLB players agreed to a new contract that limits their use of chewing tobacco and their ability to carry it around their fans. The 2012 season is the first to be played under the new rules, which were championed by Baseball Commissioner Bud Selig.
One player who used smokeless tobacco heavily is Baseball Hall of Famer Tony Gwynn. The former Padres slugger earlier this year endured 14 hours of surgery to remove a cancerous growth from the inside of his right cheek and graft a nerve from his shoulder to replace a facial nerve damaged by the tumor. This was Gwynn's second cancer surgery in less than two years.
When it comes to oral cancer, the importance of early detection can't be stressed enough. Unfortunately, this form of cancer is not usually detected until a late stage so the overall survival rate is poor, with only 58% surviving five years after treatment. Yet when oral cancer is detected while a lesion is small, survival rate exceeds 80%. That's why an oral cancer screening is always part of your dental check-up or regular cleaning appointment at this office.
During this screening we will examine your face, neck, lips, mouth, tongue and the back of your throat for any suspicious lesions (sores or ulcers) or lumps. Of course, if you notice any unusual lesions, or color changes (white or red patches), anywhere in your mouth that do not heal within two-three weeks, please come in to see us as soon as possible. And if you need help kicking a tobacco habit, we can advise you on how to get it.
If you would like more information about oral cancer, please contact us or schedule an appointment for a consultation. You can also learn more by reading the Dear Doctor magazine article "Oral Cancer."
By Progressive Dental
April 02, 2014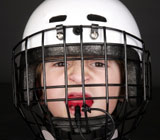 What is a mouthguard? A mouthguard or mouth protector is a protective appliance that covers the teeth and gums to prevent or reduce injury to the teeth, gums, jaws, and lips during sports or other activities prone to injuries.
Who should use a mouthguard? Children, adolescents or even adults who participate in contact or injury prone sports should use a mouthguard.
What do you mean by contact sports? Mouthguards are used most commonly in sports such as boxing, football, hockey and lacrosse. The American Dental Association recommends protection for 27 different sports, including basketball, soccer, water polo, rugby and more. The governing bodies of football, boxing, ice hockey, men's lacrosse and women's field hockey require mouth protection. It's a good idea to use a mouthguard during any activity that could result in a blow to the face or mouth.
What does the mouthguard protect against? A mouthguard protects against breaking or dislodging teeth or injuring jaws, gums, lips, or tongue, all injuries that can happen when you engage in contact or injury prone sports.
What are my choices for mouthguards? The best choice is a custom-made mouthguard fitted and made by a dentist. Stock mouthguards that are one size fits all can be bought off-the-shelf in stores, but there is no guarantee of fit or protection. A third type is a "boil and bite" guard, in which the guard material is heated and then shaped by biting down on the softened material. This offers some attempt at fitting that is better than off-the-shelf, but not as good as a mouthguard that is designed specifically for you.
Why is it better to get a mouthguard from our office than to buy one at a store? Studies have shown that store-bought stock or boil-and-bite mouthguards do not offer the same protection as a custom-made mouthguard. In our office we will make a mold of your mouth and design your mouthguard to fit your individual characteristics. It will be comfortable and easy to clean and will not restrict your speech or breathing. It will be made of resilient and tear-resistant materials, properly adapted for maximum protection, comfort and injury protection.
Wearing a properly fitted and properly used mouthguard prevents injuries to teeth, jaws, gums, lips, or tongue when you or your child participates in contact sports. Make an appointment with us to discuss your custom fitted mouthguard. To learn more read the Dear Doctor magazine article "Mouthguards."